Conference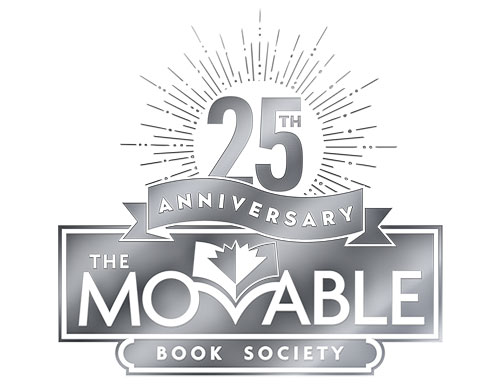 Celebrate the 25th Anniversary
of The Movable Book Society

The Movable Book Society  *  12th Conference
September 27-29, 2018   *   Kansas City, Missouri
Westin Kansas City at Crown Center
Join us for an action-packed weekend!  Hear notable keynote speakers and informative presentations. Meet fellow pop-up book enthusiasts and paper engineers. Enjoy engaging hands-on paper engineering activities.  Place (several) high bids in the anticipated fundraising silent auction.  See who wins the 2018 Meggendorfer Prize for the Best Paper Engineering at the closing banquet. And, if that's not enough, celebrate the 25th anniversary of the Movable Book Society – and secure your copy of the limited edition A to Z: Marvels in Paper Engineering portfolio collection.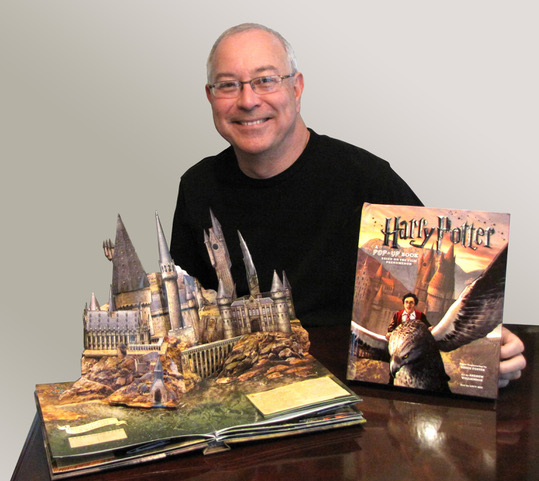 2018 MBS keynote speaker and paper engineer
Bruce Foster 
Who attends?
All are welcomed! Movable and pop-up book collectors, established and emerging paper engineers, artists' book creators, book dealers, librarians, publishers, teachers and those simply in love with the promotion and preservation of interactive books. Discounted conference pricing is available for MBS members, students and early birds!
Agenda
We've prepared an awesome conference agenda. The 2018 keynote speaker is Bruce Foster—"paper magic master" and creator of more than 40 pop-up books!  Be sure to bring your favorite Bruce Foster pop-up book to be autographed. These may include Harry Potter: A Pop-Up Book or the newly released Love You Forever, the Pop-Up.
Conference registration is open
Special Offer!  The first 75 registrations will receive a limited-edition MBS Conference Keepsake designed by book artist Ed Hutchins. The keepsake will be distributed in Kansas City.
| | |
| --- | --- |
| MBS Member Rates | |
| Full Conference | $420.00 |
| Thursday only |  $180.00 |
| Friday only | $130.00 |
| Saturday only, including banquet | $220.00 |
---
General Public Rates
Full Conference
$470.00
Thursday only
$230.00
Friday only
$180.00
Saturday only, including banquet
$270.00
---
| | | |
| --- | --- | --- |
| Student Rate (with valid college ID only) | | |
|   Full Conference |  $300.00 | |
Showcase Your Items – Book a Table at the Book Fair
Reserve a full or half table for book sales or swaps on Saturday, September 29. Full table prices are $50.00 for MBS Members and $75.00 for the General Public. Include your table fee with registration — see below for payment options.
Need to cancel your registration?
Conference registration refunds are available until August 31, 2018. A $50 processing fee will be retained on any cancellation. If it is necessary to cancel, the registration fee (minus the processing fee), will be credited towards the 2020 conference. No refunds will be issued after September 1, 2018.
2 Easy Ways to Register, 2 Easy Ways to Pay
To register for The Movable Book Society Conference:
Complete this form. Email it to Denise Price at denisedprice@gmail.com or mail it to the address listed on the registration form.
Pay online via PayPal or send a check, payable to "The Movable Book Society," to Denise at the address listed on the registration form.
Book Your Hotel Room
The conference hotel is the Westin Kansas City at Crown Center, located at 1 E Pershing Rd, Kansas City, MO 64108.

Our block at the conference hotel (Westin) is full, and the hotel has no more rooms available. We have reserved an additional block of rooms at the nearby Sheraton. The link below will take you to the Sheraton site where you can reserve a room at the same conference rate listed below.

Click to Book Your Hotel Online

Guest room rates
*  Single or Double: $180/night

Rates are good until August 27, 2018, subject to availability.

You can call 1-816-841-1000, and ask for The Movable Book Society rate.
Conference Scholarships
There are two conference scholarships available by lottery. Each scholarship covers the conference fee, one year's membership, and a $500 stipend to be used for hotel and/or flight. Scholarship recipients will be asked to assist at the conference, write a newsletter article or serve the organization in some other way. Download the MBS Scholarship form today. Deadline for scholarship applications is July 1. Previous scholarship recipients are not eligible.
New for 2018: "Antiques Roadshow" for Pop-Up Books
Saturday's program will feature The Movable Book Society's version of Antiques Roadshow, hosted by Larry Rakow. Since 1990, Larry Rakow has been the owner of Wonderland Books, an internet shop specializing in old, rare, and collectible children's books, with a particular interest in pop-ups and movables. Larry will be joined by collection veterans Ellen G. K. Rubin and Larry Seidman. If you have a book that is ripe for appraisal and you would like to join in the fun, contact Shawn Sheehy at shawnsheehy@gmail.com.
Show-and-Tell
Speaking of old, rare or collectible books: Do you have something unusual that you would like to share at the conference? We are organizing an informal show-and-tell session for Friday evening at the hotel. Prepare to bring a special book, and watch for further details.
Back by Popular Demand: The Open Mic
Given its overwhelming popularity in 2016, the Open Mic session will return as part of Friday's program. If you are interested in presenting a 5-minute, web-based update on your current work, contact Shawn Sheehy at shawnsheehy@gmail.com. Only ten spots are available—sign up now!
Sunday Post-Conference Workshops with Helen Hiebert
Helen Hiebert, author of Playing with Pop-ups, is offering two half-day workshops on Sunday, September 30: Pop it Up / Light it Up and Twisting Tyvek Lanterns.
They will be held at the Kansas City Center for the Ink & Paper Arts, located at 1427 W 9th St in Kansas City, MO.
Click here for more information and to sign up!